Buy Online
Please note! We have listed commercial Flame Retardant Curtains first and then domestic curtains follow.

Below is an illustration of the Pencil Heading design we offer on all curtains.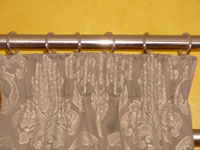 Pencil Heading.
All will be made to your measurements and you will need to give them in centimetres! The average time it
takes to make your curtains is between 3 and 4 weeks. We will of course be in touch with you should there
be any unusual delay through lack of stock etc.
Please do get in touch with us should you have any queries but for measuring you need to use the length of
the track or pole for the width and the full drop of the curtain for the curtains, except for eyelets for which
we need the measurement from the top of the pole to where you want the curtains to finish.
ALL these curtains will be machine made to a very high standard and the commercially rated curtains are
all flame retardant and washable.
We have copies of the certificates needed for commercial premises which we can give you as well as the
fact that there will be a certain amount of information on the curtain labels.
Please choose the design you like; click on it and you can then choose to look at the other colour-ways.
You will then need to choose your heading( see above) and lining type and fill in your sizes.
The price will then automatically come up. Should you need more pairs then save to your cart and
repeat the process. We only make a single carriage charge for your whole order.
Thank you for shopping with Mr Trax.